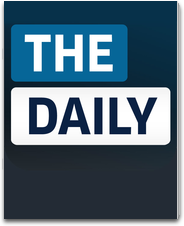 At the beginning of 2011, News Corp launched The Daily, which at the time was an iPad only daily newspaper priced at just $0.99 per week. Since then it has expanded to the iPhone, and other digital platforms, but has always been an all digital news outlet. The Daily was set to be a ground breaking publication that could lead to brand new revenue streams in the all digital form made for tablets and smartphones. The Daily was one of the first apps to push the in-app subscription model as well as Newsstand, but it still never seemed to catch on.
Today, News Corp. announced that it will be shutting down publication of The Daily on December 15th. There were rumors of its cancellation back in July, and its continuation would be reaccessed after the election. Now we see the results of the reassessment, and it was said at the time that The Daily is estimated to lose $30 million a year. Other Newsstand apps have seen success with profits of $70,000 per day, but not The Daily, or its overhead costs might be higher. Either way The Daily has already been removed from the App Store, and the last issue is set for December 14th.
As The Daily is shut down, News Corporation is being split into two businesses with News Corporation and Fox Group to better manage the separate entities formerly all encompassed under News Corp.