Apple's stock continues to slide while we keep waiting for something new from Cupertino. In the mean time, Apple continues to rake in the big bucks from almost every industry they're apart of. New statistics have been released from various sources over the past couple of days pointing to music, apps, PCs, and smartphones. Each stat shows that Apple is absolutely dominating the respective industry when it comes down to profits, which comes as no surprise.
iTunes will celebrate it's 10 year anniversary on April 28th, and the iTunes music store is still going strong. According to NPD, the iTunes music store garnered 63% of all digital music downloads in the US for Q4 of 2012. The next closest is Amazon at 22%, though they have risen 9% over the past three years, but Apple has only dropped 3% over the same time period. In terms of mobile apps, the App Store is the de facto king as it reportedly makes 74% of revenue of all mobile apps. Android app downloads have matched the App Store, but revenue generated by the App Store is 2.6 times as much as Google Play.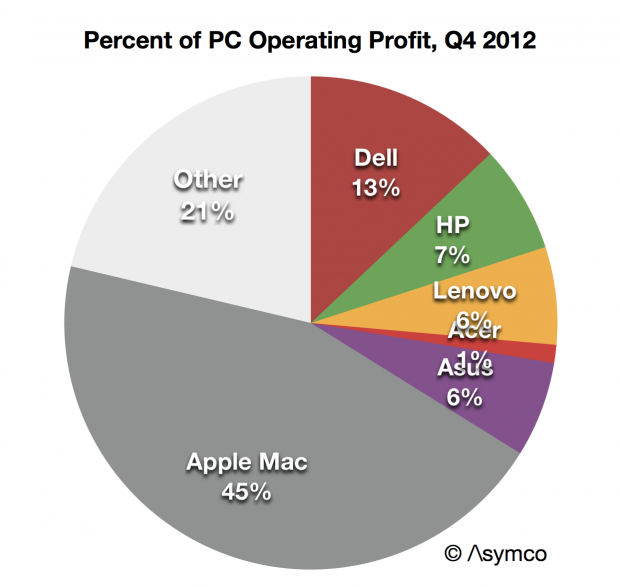 The PC market is slowly, but surely contracting with unit shipment declines continuing for consecutive quarters to the most recent quarter showing declines at the steepest level in two decades. Even with the decline, Apple is making the best of it by garnering 45% of the PC industry profits, which is more than the top five other PC manufacturers combined. Finally, there's the smartphone industry which saw Apple make 72% of the profits of all smartphones sold in Q4 of 2012. Samsung came in 2nd at 29% while all the rest either broke even or lost money, and that's why Apple plus Samsung make more than 100% of profits.
Apple is dominating profits above all else in almost every industry they compete in, and all of these statistics are as of the most recent quarter. Apple may not have the greatest market share, but they sure do make the most of what they got.