2016 has come to a close, and that means it's time to take a look back at the year that was for the App Store. The App Store saw over 200,000 new game release in 2016, and we're here to cut that down to the very best 50 games of 2016. As usual, there's so much to choose from, and it takes awhile to get the list down to 50, and then rank those 50 to find the game of the year.
The games span multiple genres, and we tried to judge the games based on a number of factors. Those factors include design, gameplay depth, touch controls, iOS originality, longevity on device, and more. We hope you enjoy our list of the 50 best iOS games of 2016.
This year, we worked with AppAdvice to host our list with their great layout. Please follow the link below to see all 50 games. Also, you can check out our 50 best games from 2015.
Game of the Year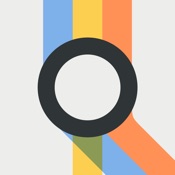 Mini Metro ($4.99, Universal): Mini Metro gives you a subway layout, and your job is to draw routes between stations to connect your subway. The game begins with three stations, but the city is constantly growing to give you a whole lot more to manage. One of the most intriguing aspects is that everything runs automatically, so the trains travel as quickly as they can, and commuters decide what trains to board, and which stations to make transfers. You just need to make sure everything connects as new cities are introduced. The game is made for touch allowing you to drag in new station lines, and it's great to see the beautiful minimalistic transit map come to life under your fingers.
Runner-Up #1
INKS. ($1.99, Universal): The game takes the familiar concept of pinball, and fashions it into a relatively new form. Each pinball table constitutes its own level with a single objective, rather than a high score based arcade experience. Your ultimate goal is to hit each colored sector with the pinball, and do so with as few balls as possible. The best part of INKS is that the colored sections deliver a paint explosion when you hit them, and they spray out further, the harder you hit the colored sections. You can make art as you knock the pinball around the board, as the pinball draws its path as it rolls through the paint. Each completed level comes with a type of art as you get to see the exploded paint combined with the path of the pinball on the table canvas. It's pinball fashioned into a puzzle game that is made for anyone to enjoy.
Runner-Up #2
Crashlands ($4.99, Universal): A deluxe survival adventure that lets you play as Flux Dabes, a galactic trucker, whose space transport has been blasted out of the sky. You land on a strange planet, Woanope, and will come across a lot of dangers, resources, and even a few friendly sentient beings thrown in. Crashlands excels by nailing the essence of the genre, yet making it as accessible as possible for anyone to dive into all that's in store. There's a huge map to explore with over 500 craftable items, well as hundreds of quests. The game is designed for touch, and excels by giving constant quests, so you don't have to explore aimlessly. You're always intrigued to do more in the world of Crashlands.
Follow the link to see #4-50 on AppAdvice.com.