Today's iPhone, iPad, and iPod touch free apps daily include a high speed platformer, interactive kids app, musical instrument, and strategy RPG. A number of apps drop from paid to free on a daily basis*, and we pick the top four everyday, as many of the others aren't worth your time even for free. Everyday we try to pick apps that are worth spending money on, but are now free to download, and here they are.
*Price drops are temporary, and usually last for just 24 hours, so be quick to download.
Chameleon Run ($1.99 ->Free, Universal) [Review]: A high speed platformer in which you need to switch between pink and yellow, so that your character matches up with the colored platforms, and you will need to continue to switch colors as you hop between alternating colored platforms. Chameleon Run is all about speed to the point that it feels like you're flying by the seat of your pants to stay on top of the color change, and the right timed jumps. There's a great 3D design with 16 distinct challenging levels to complete.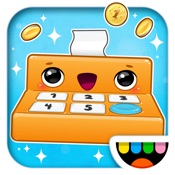 Toca Store ($2.99 -> Free, Universal): Another interactive kids app from Toca Boca, and this one replicates the idea of running a store. Kids can swap turns between being the shop owner behind the register to the customer purchasing goods. There are 34 different objects in the store, and kids can set their own prices.
Ocarina 2 ($0.99 -> Free, iPhone): A wind instrument (like a flute) for your iPhone. You simply breathe into your iPhone microphone, tap the notes on screen, and start playing music. The original felt like a demo of iPhone capabilities as there was no guidance, or any real ability to play a tune. Ocarina has been updated numerous times to takes the engine, and provide real songs to play, with visual guidance for each note. Ocarina 2 has a set-up similar to Magic Piano as it opens up the instrument to anyone, and lets you unlock new songs from classical to modern.
Mystery of Fortune ($0.99 -> Free, Universal): A strategy RPG mixed with real time action to give you a unique challenge as you descend through dungeons. The game is the sixth episode of the Fortune Chronicle series, and allows you to pick characters from the previous installments. There are 25 units to add to your team as you face off against over 35 enemy types.
Mystery of Fortune 2 ($0.99 -> Free, Universal): The sequel