Today's iPhone, iPad, and iPod touch free apps daily include a fairy tale themed puzzle, text overlay app, time tracking utility, and focused reminders app. A number of apps drop from paid to free on a daily basis*, and we pick the top four everyday, as many of the others aren't worth your time even for free. Everyday we try to pick apps that are worth spending money on, but are now free to download, and here they are.
*Price drops are temporary, and usually last for just 24 hours, so be quick to download.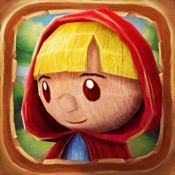 A Day In The Woods ($1.99 -> Free, Universal): A fairy tale themed puzzle game in which you slide tiles across the board to guide little red riding hood to safety. There are 60 different levels included filled with new woodland creatures that are varying friends and foes displayed with a neat woodcut art style.
Path On ($1.99 -> Free, Universal): A photo effects app allowing you to overlay text on any photo. The difference with Path On, is that you can align the text on a particular path whether it's a curved line, circle, or all kinds of various shapes that you can align with your finger.
24H ($1.99 -> Free, Universal): A time tracking utility that makes it easy to stay on top of how your time is spent. You simply press and hold to create a new task, and from there you can set the category, duration, and date. The app then presents your time over the week with colored chunks indicating the different tasks and times.
WaterMinder ($0.99 -> Free, Universal) [Review]: The app is all about reminding you to drink water throughout the day, so that you can stay hydrated. The main screen delivers a single button allowing you to add in a cup or bottle of water that you drank. As you add them in, the on screen body starts to fill up with water, and you want to fill it 100% to reach your customizable water goal for that day.