Today's iPhone, iPad, and iPod touch free apps daily include a car utility, retro inspired platformer, interactive kids app, and action puzzle game. A number of apps drop from paid to free on a daily basis*, and we pick the top four everyday, as many of the others aren't worth your time even for free. Everyday we try to pick apps that are worth spending money on, but are now free to download, and here they are.
*Price drops are temporary, and usually last for just 24 hours, so be quick to download.
Fuel ($0.99 -> Free, iPhone): A utility app to help you keep track of your gas usage for each car that you own. The app makes it easy to enter the cost of each fill up, and the mileage driven between full tanks. You can then view MPG, fuel cost, consumption charts, and more. The app also lets you calculate how much a road trip will cost in fuel.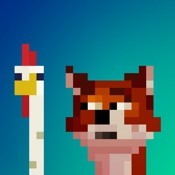 Fox Eats Chicks ($0.99 -> Free, Universal): A retro inspired platformer mixed with stealth and puzzle elements. There are 80 bite sized levels that challenge you to guide your fox to snack on various birds, while avoiding angry dogs, spiky hedgehogs, and more.
Toca Hair Salon ($1.99 -> Free, Universal): Toca makes some great apps for kids, and the hair salon version makes hair styling fun with great interactive touch controls. The sequel introduces new characters, new styling tools, more deluxe animations, extra accessories, and more realism when it comes to hair. There's so much potential in the characters that can be created and shared in the Toca Hair Salon.
Train Conductor ($0.99 -> Free, Universal): An action packed puzzle game with a set of train tracks spanning horizontally across the screen. You need to direct the trains across the tracks by drawing extensions to move trains between the rows to avoid one another.