Today's iPhone, iPad, and iPod touch free apps daily include an interactive education app, digital board game, soundscape app, and relaxation utility. A number of apps drop from paid to free on a daily basis*, and we pick the top four everyday, as many of the others aren't worth your time even for free. Everyday we try to pick apps that are worth spending money on, but are now free to download, and here they are.
*Price drops are temporary, and usually last for just 24 hours, so be quick to download.
Intro to Colors, by Montessorium ($4.99 -> Free, Universal): An interactive education app all about the world of colors. The app includes distinct sections for basic foundations, primary & secondary colors, and shades & gradients. Once the sections are cleared, kids can mix, paint, and create colors.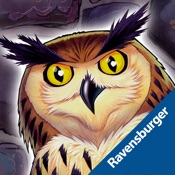 Whoowasit? ($3.99 -> Free, Universal): A digital board game in which players need to track down the thief who has stolen the king's magic ring. The game is about exploration, spell crafting, and teamwork with support for one to four players on the same device.
Windy ($1.99 -> Free, Universal) [Review]: The app comes from the makers of Thunderspace, and offers a similar idea in providing ornate soundscapes to listen to, while this time focusing on the wind. You're given six different natural wind recordings, all recorded with stereoscopic 3D to be optimized for it to sound like the wind is all around you. The wind sounds so authentic to the point that it sounds like it's blowing on either side of you, up above, all with varying pitch.
Relax Rain ($1.99 -> Free, iPhone): A relaxation utility that features eight high quality rain soundtracks to listen to. The app includes a swipe based interface to switch between sounds, as well as a sleep timer. You can use the app to relax, unwind, meditate, or concentrate.