Today's iPhone, iPad, and iPod touch free apps daily include a colorful puzzle game, logic puzzle game, photo filter app, and air hockey game. A number of apps drop from paid to free on a daily basis*, and we pick the top four everyday, as many of the others aren't worth your time even for free. Everyday we try to pick apps that are worth spending money on, but are now free to download, and here they are.
*Price drops are temporary, and usually last for just 24 hours, so be quick to download.
Linia ($3.99 -> Free, Universal): A colorful action puzzle game in which you try to connect like colored shapes. The shapes aren't standing still though, as they move around the screen, hide, change shape, rotate, and more across 80 levels.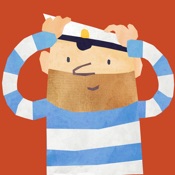 Fiete Choice ($2.99 -> Free, Universal): A logic puzzle game in which you need to find the image that is the odd one out. There are 99 levels included of hand drawn artwork to sort and decipher with two levels of difficulty, plus a timed or untimed mode.
Vintage Scene ($1.99 -> Free, iPhone): A photo filter app that transforms your photos, so that they look like they were taken decades ago. The app adds sepia tone, grain, darkened edges, distressed paper, and more. You can also adjust the strength of the vintage style.
Vintage Scene HD ($1.99 -> Free, iPad): The iPad version.
HC Sparta Air Hockey ($0.99 -> Free, iPhone): An air hockey game letting you play solo against the computer, or against a friend on the same device. There are three modes to play, and each one introduces a new setting and style. The main emphasis is the relatively authentic air hockey physics engine.
HC Sparta Air Hockey ($1.99 -> Free, iPad): The iPad version.