Today's iPhone, iPad, and iPod touch free apps daily include a storybook app, deluxe calculator, 3D survival adventure, and speech to text app. A number of apps drop from paid to free on a daily basis*, and we pick the top four everyday, as many of the others aren't worth your time even for free. Everyday we try to pick apps that are worth spending money on, but are now free to download, and here they are.
*Price drops are temporary, and usually last for just 24 hours, so be quick to download.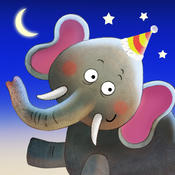 Nighty Night Circus ($2.99 -> Free, Universal) [Review]: A storybook app that is designed to let kids help animals get ready for bed to reinforce the concept for themselves. Whether kids are turning off light switches, or blowing out candles, it's all about letting the animals get to sleep after a busy day at the circus. Not only do kids get to put them to sleep, but they also get to interact with them before bedtime.
MathStudio Express ($9.99 -> Free, Universal): A deluxe and versatile calculator app that can offer a wide range of solutions from basic calculations to replacing a graphing calculator. The app can help with solutions for algebra and calculus with the on board computer algebra system, and the ability to present 2D, 3D, and statistics graphs.
Raven ($0.99 -> Free, Universal): A survival game where you play as a raven flying through the skies trying to collect edibles, and avoiding bigger animals. There's a deluxe 3D world to fly through with smooth touch controls to glide the raven around. Part of the appeal of the game is the well crafted flying experience.
Kool ($1.99 -> Free, iPhone): A speech to text app that focuses on a simple interface first, and foremost with a single button to tap for the app to start recognizing your speech. Once you're done speaking, you tap a single button to see the text results, and then you have a ton of options. You can bring up the keyboard to edit any incongruences, or type out more words, and you can also extend your entry with another voice session. Once you have the text you want, you can then e-mail, text, tweet, post to Facebook, or send to WhatsApp. There's also the ability to copy the text, and paste it any other app you please.