Today's iPhone, iPad, and iPod touch free apps daily include a classic hidden object challenge, audio relaxation app, turn based RPG, and hidden object adventure. A number of apps drop from paid to free on a daily basis*, and we pick the top four everyday, as many of the others aren't worth your time even for free. Everyday we try to pick apps that are worth spending money on, but are now free to download, and here they are.
*Price drops are temporary, and usually last for just 24 hours, so be quick to download.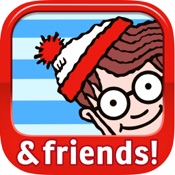 Waldo & Friends ($0.99 -> Free, Universal): The classic Where's Waldo books have been transformed into digital landscapes to explore with all new twists. You still need to find Waldo, but there are additional hidden objects, all new lands, and a social component to search against friends.
Thunderspace ($4.99 -> Free, Universal) [Review]: The app provides deluxe thunderstorm recordings to listen to. These aren't just simple audio files, but rather stereoscopic 3D audio that supplies unique strings to both ears to immerse you in the sound. With Thunderspace and a pair of headphones, you can feel like you're in the middle of a rain storm, without having to get wet. The app takes it to the next level by using the iPhone flash sensor to simulate lightning in your surroundings.
War of Eclipse ($1.99 -> Free, iPhone): A turn based RPG filled with retro style. You get to play as a captain in a battle for survival against an alien race with 35 enemy types, seven customizable air ships, and seven different endings to discover.
Treasure Seekers: Visions of Gold ($2.99 -> Free, iPhone): A hidden object and puzzle adventure game where you follow the story of Nelly and her younger bother Tommy. There are 40 levels in seven different locations with 19 challenging puzzles along the way. It's a quest that is free in honor of Part 2 & Part 3 recently being released.
Treasure Seekers: Visions of Gold HD ($4.99 -> Free, iPad): The iPad version.