Today's iPhone, iPad, and iPod touch free apps daily include an ambient sounds app, match three game, ambient music app, and photo effects app. A number of apps drop from paid to free on a daily basis*, and we pick the top four everyday, as many of the others aren't worth your time even for free. Everyday we try to pick apps that are worth spending money on, but are now free to download, and here they are.
*Price drops are temporary, and usually last for just 24 hours, so be quick to download.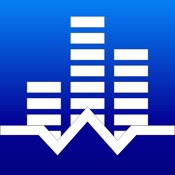 White Noise ($0.99 -> Free, Universal): An ambient sounds app to help you sleep, or simply relax. You can mix sounds together for your own track to play. There are over 40 different white noise looped tracks to play. You can also set-up an alarm and sleep timer.
Blowup!! ($0.99 -> Free, Universal) [Review]: A matching game that requires at least eight or more blocks to create point scoring matches. As you gather more and more of the same colored blocks, they start to transform into more advanced robots. There are three different game modes, and the gameplay is tied to various musical beats.
Ananda ($1.99 -> Free, Universal): An ambient sounds app that offers binaural tones and peaceful sounds to help you concentrate, focus, and work. The app includes specific binaural beat programs designed to help you reach a specific mood or state of mind. If that wasn't enough, there's also a unique combination of nature sounds, chants, mantras, and peaceful bells each time you open the app, mixed in with the binaural beats.
PowerUp ($0.99 -> Free, iPhone): A photo effects app that turns your camera into a retro 8-bit video camera based on classic gaming consoles. The app offers real-time effects allowing you to see how your photo will look before you take it. PowerUp can also convert your existing photos.